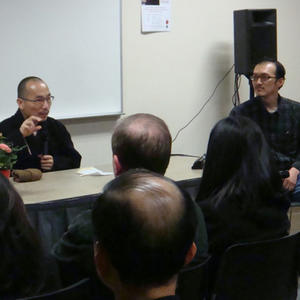 Master Miao Tsan met students of University of California, Irvine at the Student Center last night, January 12, 2010. A heated Q&A session was provided to look insight into Universal Truth & Oneness, just use this mind. Very informative. And feedbacks from UCI students are very positive. Some wisdom highlights to share as below.
All learning comes from within.
By following our thinking pattern, we create a jail for ourselves.
Use the book, Just Use This Mind, to correct our concepts within, since we are the only person who can create and change our thoughts.
All materials, books etc, just tell us how to get rid of our attachments within.
Right practice comes from within.
Right thought and right action lead to right result.
Truth is truth. No definition is needed.
What within will manifest outside.
We are creating our future unconsciously. So have good and right seed to begin with is the key.
Once Karma is created, can not be changed anymore as it has been created.
In life, how many time we spend to deal with our negative thoughts/emotions.
With right thought, problems will be at bay.
Fa Hwa